'Ah … poetry at last!'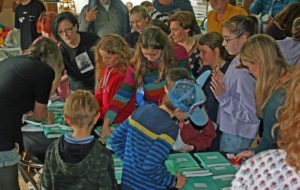 Looking for book orders 🙂
Summer Writing Challenge: If you have time and you would like to enter a writing challenge as a 7-11 year old for the chance to win FIVE books (max. spend per book £5.99), then take a look at our writing challenge. Be part of something special, exciting – and a little bit different (see the advert at the end of this page below).
What We Do: At Pen to Paper we teach literacy skills in a fun and interactive way, in a friendly and supportive environment. We use a wide variety of fun activities, tasks and games to help children aged 7-11 to develop creative writing skills, explore their imaginations, creative thinking skills and self-expression. A strong emphasis is put on developing social skills, making friendships, and building self-confidence and self-esteem.
Working alongside the school curriculum to support and complement academic learning, we operate in an informal and non-pressured setting.
When and Where: Sessions are held on Saturday mornings from 9.30 am to 11.00 am at the Alton Maltings Centre, Alton, with the occasional double. Places are limited to twenty children at a cost of £20.00 per child, per course.
Self-Development: When children move onto secondary school they have the opportunity to come back to work as Young Mentors and then at college they can come in to work as Volunteers which helps with the volunteering category of such schemes as the Duke of Edinburgh.
Who We Are: Run by course leader Sarah Lucas – writer, publisher, workshop provider and language tutor, the courses are held during term-time avoiding half-term holiday weekends where possible. About to enter its sixth year, Pen to Paper is currently funded by the National Lottery's Community Fund, and many local businesses and individuals.
Where to Find Information: Contact Sarah on 01420 587351 or at sarah@madaboutsnailbooks.com for more details, including to request a copy of the course booklet which contains:
the aims of each course
full terms and conditions
Safeguarding Policy
Child Protection Policy Statement
Certificate of Public Liability Insurance, and
directions to the Maltings.
An Application Form and list of testimonials is also available upon request.
When's the Next Course?: Courses restart after the summer break on Saturday, September 14th with the subject, 'Bugz'. Bookings are now being taken with a few places remaining.
Celebration of the Children's Work: At the end of each school year we publish a bonkers book celebrating the children's writing and illustrative work. The product of each course, the writing undergoes serious editing and the children decide on the layout and run of the book, as well as the jacket design. The poetry special, published at a fun book launch on May 18th this year at the Maltings, also includes fun comic strips and Mr. Men and Little Miss stories.
Want to Get Involved? Like the idea of volunteering at a fun and lively event for children aged 7-11? If you do, get in touch for a chat and see if you can be part of our story. Want to meet for a chat? Come and say hello at the madaboutsnailbook pitch in the Craft Marquee at the Alresford Agricultural Show, Saturday September 7th.
Sarah Lucas, Pen to Paper