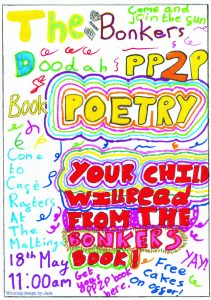 You are invited to come and help us celebrate the launch of the Big Bonkers Doodah Poetry Book on Saturday 18th May at 11.00 am, the Maltings, Alton. Grab a beautiful home-made cake and listen to the children read their amazing poems and tell their jaw-dropping stories, all in the airy, open space of the Café Rafters. Bring your smiles and your happy faces. All ages welcome 🙂 Free parking available.
Amended Application Form for Pen to Paper courses SINGLE PAGES
Do you live within Hampshire, Surrey or West Sussex? Are you aged 7-11, have a child of that age either with an interest in writing or a wish to increase their confidence in literacy? If so, these lively and interactive 6-week creative writing courses for Key Stage 2 children might be just what you are looking for. Children can come and learn some new writing techniques, practice what they have been taught in school, work alone or towards a national or local writing competition, all with a chance of mentoring thereafter. Friendships form a big part of what goes on: the children enjoy not only spending time with others who like to use their ideas and imaginations in a creative environment, but also the benefits of sharing their work with others.
When children move on to Key Stage 3 and wish to remain with us in some capacity, they have the opportunity to do so by learning to become a Young Mentor. Being close to the age of the children taught on each course, our Young Mentors offer practical help with how to get ideas down on paper, get spellings right, as well as talk through sequencing in story writing, and recommend books an individual child might enjoy.
Currently based at the Alton Maltings Centre in Alton, the courses are held on Saturday mornings between 9.30 am and 11.00 am, with the occasional double. Places are limited to 25, mentors and volunteers included.
Course 26 was based on Fantasy Fiction – 'How to Train Your Unicorn', – and featured Knights, Dragons and Princesses. We had some wonderful writing as a result, with great enthusiasm for characters, settings, metaphors and similies, as well as fantasy word banks. An exciting development has been the interest shown in flawed characters, a theme which we carried into Course 27 based around 'Spies and Teen Heroes'. With a split of ten boys to eleven girls (mentors and volunteers excluded), this course was a mix of fiction, poetry, script writing and acting opportunities, with the additional topics of code breaking, fingerprinting, invisible ink and WWII history.
Course 28, 'Getting out of Sticky Situations: The Great Escape', focused on descriptive writing and began with the Fantastic Mr. Fox, moving onto escapes from sticky bogs to crash landings, with a bit of burrowing. We looked at moles, worms and a whole host of things that need to escape.
The content of Course 29, which began last weekend is 'The 3Ms: Murder, Mystery and Magic', thanks to Jack and the comic strip boys for their suggestion. There are opportunities for comic strip illustrations, poetry, script and fiction writing and will end with the launch of our new bonkers book. Last Saturday we had a scene set up with a table, two places set, two chairs, empty Easter egg boxes on the floor, sweet wrappers, a clock, a candelabra with three candles and an ice bucket with and empty milk carton in it. There was a tiny chocolate bunny on the table, a bunch of keys and, in the background, an open window with paw prints across the floor and up the wall leading up to it. What had happened to the Easter Bunny? We had all kinds of suggestions and magnificent writing from everyone. I think it was agreed that the Easter Bunny had survived and that there had been no murder involved.
This Saturday it's the same setting with FOUR places and options for Mystery storytelling using the characters the children came up with last week. Where will it all end?
A new initiative for the autumn was our 'Proud to Be Me' workshop which focused on positive self-worth and confidence for girls aged 10-14. There will be a follow-up session in the spring for those who attended, as well as further celebratory workshops throughout 2019 looking at relevant topics such as the stresses of every day life and ways of dealing with them in a positive, proactive way, all of which proved thought-provoking for everyone in their unique way. Please email or 'phone Sarah if you would like to discuss any aspect of what was covered in the workshop to sarah@madaboutsnailbooks.com or on 01420 587351.
The remaining dates for this school year are:
C29 – May 4, 11 (double), 18 (double), (avoiding half term from May 25 – June 2), and
C30 – June 8, 15, 22, 29, July 6 (double session)
We are always open to approaches from college volunteers and GAP year students though currently we are full until July 2019. Any student who would like to inspire children's writing skills, enjoyment of the written word and confidence should contact us direct by emailing sarah@madaboutsnailbooks.com or 'phoning 01420 587351.
Run by children's author, language tutor and workshop provider, Sarah Lucas, alongside occupational therapist, Kate Collins, Putting Pen to Paper courses are held during term-time, avoiding half-term and main holiday weekends wherever possible. Boys and girls have joined from a wide range of schools, Alton School, Anstey Junior School, Bentley Primary, Bentworth St. Mary's, Binsted CofE Primary, Camelsdale Primary, Chawton CofE Primary, Four Marks Primary, Froxfield CofE Primary, Medstead CofE Primary, Ropley CofE Primary, Selborne CofE Primary, Sheet Primary, St. Andrews Endowed, St. Lawrence Primary, St. Swithuns, The Butts, West Meon Cof E Primary and Wooteys County Primary, to name but a few. Our geographical reach extends from Haslemere to Southampton and from Basingstoke to Winchester. We are also lucky to have a solid team of Year 7 (+) pupils and mentors from Amery, Eggars and Perins who come and help with setting up, working one-on-one with the children, as well as running class exercises, and our invaluable Alton College volunteers.
This not-for-profit initiative for Key Stage 2 children has a high number of returnees and was funded for the school year 2018/2019 by the National Lottery's Community Fund which has allowed us to keep course costs to a minimum.
If you are interested in Putting Pen to Paper please send your address by email to sarah@madaboutsnailbooks.com to receive a copy of the Application Form or click on the link above to print direct. A separate leaflet can be posted if you prefer.
Places will be secured upon receipt of a completed form and cheque made payable to 'Putting Pen to Paper' with a cost of £20.00 per child, per course. Take a minute to read through the following testimonials from parents and children about their experience of Putting Pen to Paper.
What the parents say:
'Hi Sarah, just wanted to say thank you again for doing these wonderful writing courses. My husband and I could not believe it when K. said that she was going to participate in that 500-word competition. Then, we could not believe it when she actually sat down and started writing it during the half term. But what was even more unbelievable was that she discarded her first story half way through it, saying that it was rubbish! Which was when we thought she was not going to do it anymore, but she sat down and wrote a completely different story! This would have never happened if it were not for your writing course. We are just so happy that K. has so much more confidence with her writing and that she is happy to give it a go. Thank you and Kate for your brilliant work.'
'R. has loved going to Pen to Paper.'
'M. has really loved the course.'
'.. She says she likes writing now and it was a real battle before.'
'She loves the Saturday sessions.'
'Ever since E. started the course, her confidence has grown.'
'K. has definitely started to write things for homework with a lot more interest and confidence.'
'M. has grown in confidence.'
'The girls have loved your course.'
'Thanks for running such a great course!'
'Z. loves your course. She talks about it all the time.'
'My daughter wants me to book her in for the next three years she loves it so much!'
'You and your team are carrying out really motivational workshops – thank you :)'
What the children say they liked about P2P:
Year 5 : 2018-2019
(currently being updated)
Year 4 : 2017-2018
(currently being updated)
Year 3 : 2016-2017
'I love everything about Pen to Paper.'
'I like the games and stuff, the drawing and the laughter yoga.'
'Everything at Putting Pen to Paper is epic and awesome!'
'I like it when we make models like Harry Potter's cupboard under the stairs.'
'Putting Pen to Paper is brilliant. I get to do all the things I don't normally get to do. I can write as many stories as I like and can float away in my own imagination.'
'Putting Pen to Paper is … so good, I just can't find the words!'
'It's fun and exciting and extends my creative mind.'
'I've really enjoyed Pen to Paper. It's been fun!'
'I like making up stories and drawing and I enjoy all the activities.'
'What I have enjoyed is the creative writing and making new friends.'
'Pen to Paper is still super cool.'
'I like Pen to Paper because it's fun and it has lots of cool, funny activities.'
'There's something for everyone.'
'You can draw whatever you want!'
'It's fun and creative.'
'It's awesome!'
'Writing is FUN.'
'It's fun and exciting.'
'It's creative!'
Year 2 : 2015-2016
'… getting ideas and writing stories.'
' … making animal homes …'
'Creating anything!'
'Reading out and acting!'
'… writing whilst making new friends.'
'Everything, but especially the scriptwriting and drama!'
'… making new friends …'
'Everything!'
'… the exciting atmosphere …'
'I really enjoyed writing stories and showing them to Sarah or Kate.'
'Literally everything, especially 'being a criminal' !'
'Showcasing my work.'
Year 1 : 2014-2015
'The games and writing with people who like to write.'
'Everything.'
'Getting on with our stories.'
'I loved the writing.'
'The games. The marshmallow towers …'
'The social part of it.'
'Meeting new people.'
'Eating cake!'
'Scriptwriting.'
'Just being here.'
'Everything about it is super cool.'
'Being quiet.'
'Being a helper.'
'I loved the teachers.'
'The bonkers board!'
'Coming to P2P is the best thing in the world.'