A big thank you to the Library staff who organised the events, the children who came and the parents who brought their children along to both Bordon Library on Saturday 23rd July, 'Snaily Words and Albinos' and Alton Library on Tuesday 25th from 11.30 am to 12.30 pm. It was such fun doing snaily stuff, talking about their lifecycles, what they eat, whether they have a mouth or not, if they burp – do they? – and enjoying everyone who wanted to, hold an Albino snail. Not that slimy at all, right? See you at the Alresford Agricultural Show in September – come and see us on our stand in the craft marquee!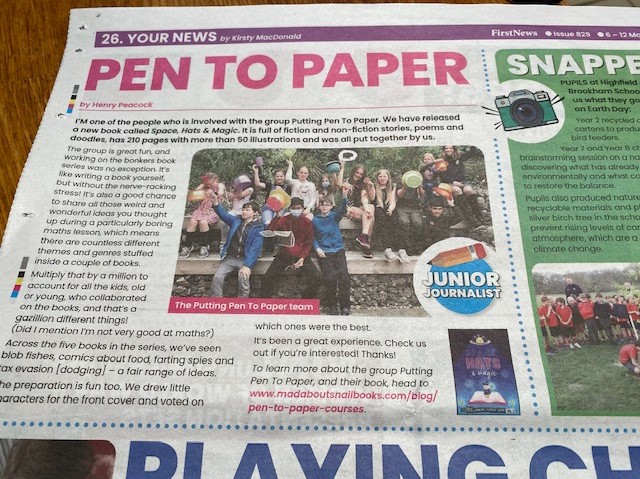 Whilst our junior journalist, Henry Peacock, has had his article about being part of the production of our 5th Bonkers Book in children's magazine, First News, the title 'Space, Hats & Magic' has been subject to rave reviews (copies still available for purchase), and we have begun work on the 6th Bonkers Book. Congratulations to everyone who attended the recent workshop where work on the content, design and layout began; everyone worked so hard and we now have a brilliant idea of how to move the project forward in September … and a kind of title? All great stuff 🙂
Course 46 begins in September, 2022. The subject is 'deserts'. Yes, not desserts, but we might trifle with that idea just so that we get to eat puddings. We do a lot of writing at pen to paper. We also need inspiration in the shape of FOOD so we will see where the course takes us and no doubt someone will come up with a really snappy title. Have you got one? If you have, let us know.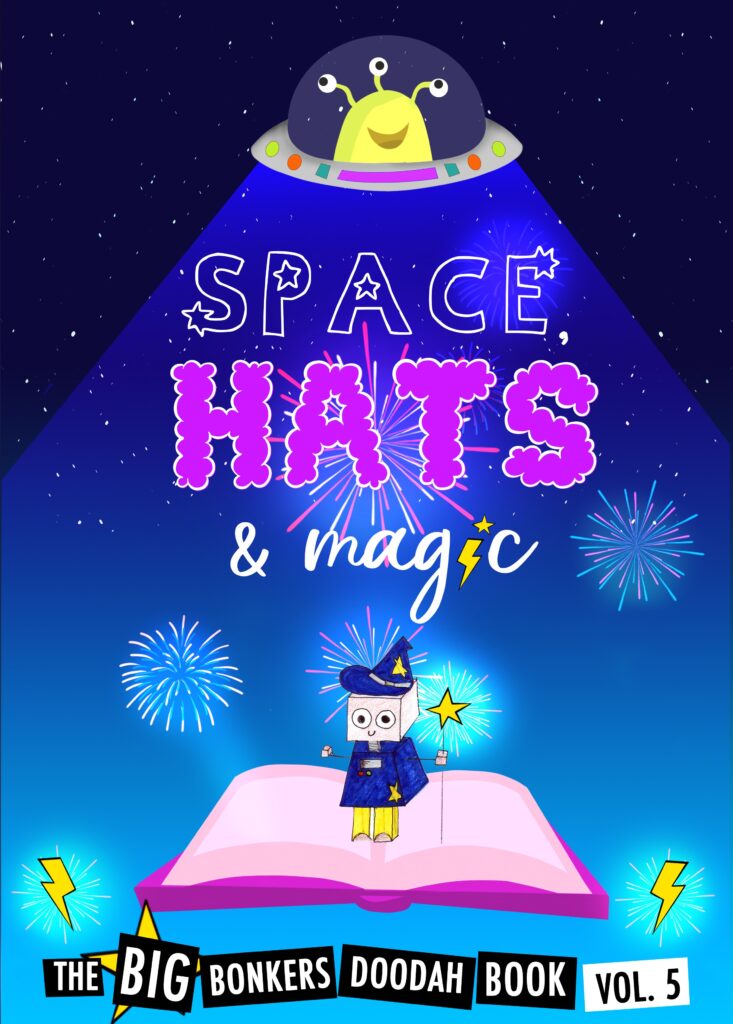 The fifth bonkers book is a super mix of fantasy fiction, stories about space, magic and … a murder of hats. Is there such a thing? Isn't it a 'murder of crows'? There's snake-throwing and talk about our chamber – the infamous 'Pit of Death'. To give you some idea of what kind of writing is in the book, here is Etta's amazing BLURB, voted 'Best Blurb' by our young pentopaperers:
'Are you ready to enter a world where children are allowed to let their minds run wild and put their imaginations into one little book? Jump into your spaceship and whizz to the wonderful world of Doodah! Meet the crazy, cooky, cool, funny, happy, funky characters that bring our stories to life. Disappear into the Planet of Poem where we write about the moon and snowmen and crime, where every other sentence rhymes!
Does this interest you? If it does, you have found the right book!'
Thank you to our amazing volunteers, Josh, Harriet, Caity and Carina who have helped the children get their ideas down onto paper this past year and to our new recruits, Orla and Ash. They have all provided the sparkles and surprises we needed – and in bucket loads. Thank you all. Orla and Ash were pentopaperers when they were younger and we are delighted with the contributions they are already making. Thank you to all our volunteers, past, present and those who hope to return soon – yet two more 'surprises' will be joining us after the summer holidays in September 2022.
What We Do: At Pen to Paper we teach literacy skills in a fun and interactive way, in a friendly and supportive environment. We use a wide variety of fun activities, tasks and games to help children aged 7-11 to develop creative writing skills, explore their imaginations, creative thinking skills and self-expression. A strong emphasis is put on developing social skills, making friendships, and building self-confidence and self-esteem.
Working alongside the school curriculum to support and complement academic learning, we operate in an informal and non-pressured setting.
When and Where: Courses run on Saturday mornings from 9.30 am to 11.00 am at the Alton Maltings Centre, Alton, with the occasional double. Places are strictly limited at a cost of £25.00 per child, per six-week course.
Self-Development: When children move onto secondary school they have the opportunity to come back to work as Young Mentors and then at sixth form/college they can come in to work as Volunteers which helps with the volunteering category of such schemes as the Duke of Edinburgh. Do get in touch if you would like to volunteer. We are currently looking for one to two college volunteers for September 2022 onwards (Enhanced DBS check an essential) for a three-, six- or twelve-month commitment.
Who We Are: Run by course leader Sarah Lucas – writer, publisher, workshop provider and language tutor – courses are held during term-time avoiding half-term holiday weekends where possible. Now coming to the end of its ninth year, Pen to Paper has been successful in its bid for funds to cover the school year 2022-2023 from the National Lottery's Community Fund and extends a big 'thank you' to all who have supported us over the years.
Where to Find Information: Contact Sarah on 01420 587351 or at puttingpentopaper13@gmail.com for more details.
Want to talk to us about your child's literacy or volunteering needs? Do get in touch. We'd love to hear from you.
Sarah Lucas
Pen to Paper, 07500 359308, puttingpentopaper13@gmail.com